Live Streamed Worship
Colorado Peaches
Lord's Lambs Child Care
TAGG for our Permanent Signage Fund
AmazonSmile Gives Us Rebates on Every Purchase You Make
Experience Life With Us!
In-person worship has resumed at 8:00, 9:30, and 10:45. Social distancing guidelines will be followed, and you must sign up to indicate your attendance.  
Do not feel guilty if you are at risk or feel uncomfortable in any way to return to worship. Please stay home and continue to worship with us online.
Please sign up by clicking on the image below.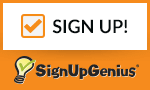 Click Here for Online Worship and More Info
Thank you for your continuing financial support. Click Here to give online, or you may mail your offerings to the church.
===================
Welcome!  Jesus is making a difference in our lives, and we would love to have you experience His love with us. We want everyone to know Jesus Christ as the Lord of your life now and for all eternity. Please accept our invitation to come and experience Jesus, the Lord of Life!
Sunday Worship is at 8:00 am, 9:30 am, 10:45 am. 5:00 pm is on 'pause' until post-Labor Day.
8:00 am worship uses liturgies from the Lutheran Service Book.
9:30 am and 5:00 pm worships use hymns from 8:00 am and liturgy from 10:45 am.
10:45 am worship is a blended worship with worship team and contemporary music.
Adult and Children's Ministries are online at various times.
Lord of Life Lutheran Church
20844 Bonanza Blvd.
Elkhorn, Nebraska 68022
Email: PastorDavid@LordofLifeElkhorn.org
Email: PastorCaleb@LordofLifeElkhorn.org
Church Phone: 402.289.3437
Lord's Lambs Child Care: 402.289.9291